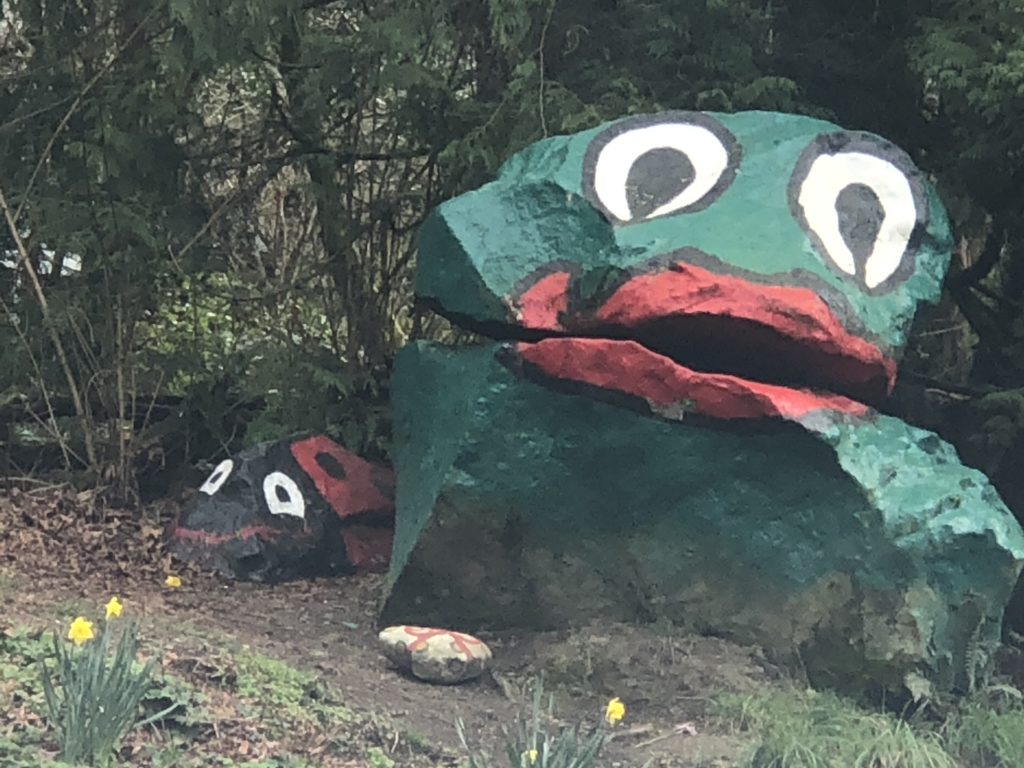 Paris has the Eiffel Tower, London the Big Ben, Rome the Colosseum. Our Island has the Frog Rock. And it actually is what the name implies: a rock which looks like a frog.
In reality, it has more connection to a place than, probably, any of the above.
Frog Rock on our Island is everything. All events, directions and distances are connected to it. We explain to friends and acquaintances where we live and work in relation to the Frog Rock. All distances are measured to and from it, almost like a mile or kilometer zero. It is not located in the center of the Island, but it feels like it. It feels like the most important spot on the Island.
When coming back from long domestic or international trips we feel that we have come home, that all has worked out, all will be good when we pass by it and look into its big, friendly eyes. The eyes are big, penetrating, inviting and, simultaneously, happy and sad. But, always, without exception, wise and reflective. And that is the strangest item of all: Frog Rock radiates energy, enveloping one with confidence, love, security and a general feeling that we are headed in the right direction and all our wishes will come true. Almost like some positive, omnipresent cosmic force which is, hard to believe, found on some inconsequential and meaningless little Island in the middle of The Puget Sound. A force that must be understood and reckoned with; a force that may hold the truth concerning existence itself. Go figure.
And that is not the most mysterious item. It always appears freshly painted; the colors are always very vivid. It is always full of energy. Additionally, the flower bed surrounding it is permanently well tended and maintained, the grass freshly cut. Yet, I have never seen anyone working on it, either on the Rock or the flower bed.
The strangest thing of all, however, is that it has started to multiply around our Island. Similar Frog Rocks are all of a sudden appearing here and there.
No harm in that. In these crazy times, even without the pandemic, we need a little help, lucidity, a guiding light, a little trust, belief and a lot of love.
If our Frog Rock is the avatar of that, so be it.
by Mike Djordjevich
Adresse :
321 High School Road #303
Bainbridge Island
WA 98110
USA
Telephone : +1 661 645 5572
Fax :+1 206 201 5401
Email : mike@mdj-cpa.com
Website : http://www.mdj-cpa.com