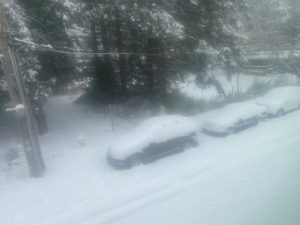 Remember the old song: "Don't know much about history, don't know much about biology, don't know much about a science book, don't know much about the French I took; but I do know that I love you, and I know that if you love me, too, what a wonderful world this would be." (Sam Cooke, Wonderful World.)
This is pretty much how I feel about climate change. If we all agreed on what we do and don't know and actually did something about it, it would be a wonderful world, wouldn't it?
But climate change it is and we have to deal with it, even on our Island which is located 8 miles (13 km.) by water from downtown Seattle. Being surrounded by water, we don't experience extreme heat or cold. Any snow accumulation is a rarity. Maybe it'll snow for a few minutes, stop, melt right away. That is it. Of course, all of this started changing several years ago when we started to encounter all kinds of weather extremes. 
About a week or two ago it got really bad. It snowed, and snowed and snowed until everything was white, covered by the wet powder which eventually froze and turned into ice. It seemed so fresh and pure, at least in the beginning. It covered everything and presented us with a new reality for at least a little while. Things we didn't like we didn't have to look at, they were invisible. It almost looked as if we were going to get one more chance at everything, a makeover of sorts. I could certainly use one of those opportunities.
Our streets were devoid of people and traffic. Except for sliding cars, having lost control, rotating; as if involved in some dance only known to them. Traffic scenes were Felliniesque and, pretty much appeared, correctly, in black and white.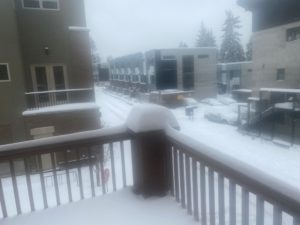 For those of us having experienced snow in other locations it was like reverting to our childhoods. We were instantly transported to the time of sledding, snowball fights, being out and greeted with warm clothes and tea when we finally went back to our houses.
For those of us from the regions where there was no snow, this was a novelty.
Pure miracle and magic. Something incredibly transformative and unusual. A new experience to be cherished.
We survived the whole ordeal by having some very good whiskey, wine, refrigerator full of food and plenty of heat. It was hard but we made it.
Then, there was that Tonga volcano eruption. You have to understand, there is nothing between our Island and Japan, just the open Pacific Ocean. Consequently, there was a tsunami warning. We were scared and worried.
Again, we were ready with our survival implements of alcohol and food but didn't have to resort to that. The dreaded tsunami never materialized.
"Don't know much about history, don't know much about……."
by Mike Djordjevich
Address :
321 High School Road #303
Bainbridge Island
WA 98110
USA
Telephone : +1 661 645 5572
Email : mike@mdj-cpa.com
Website : http://www.mdj-cpa.com