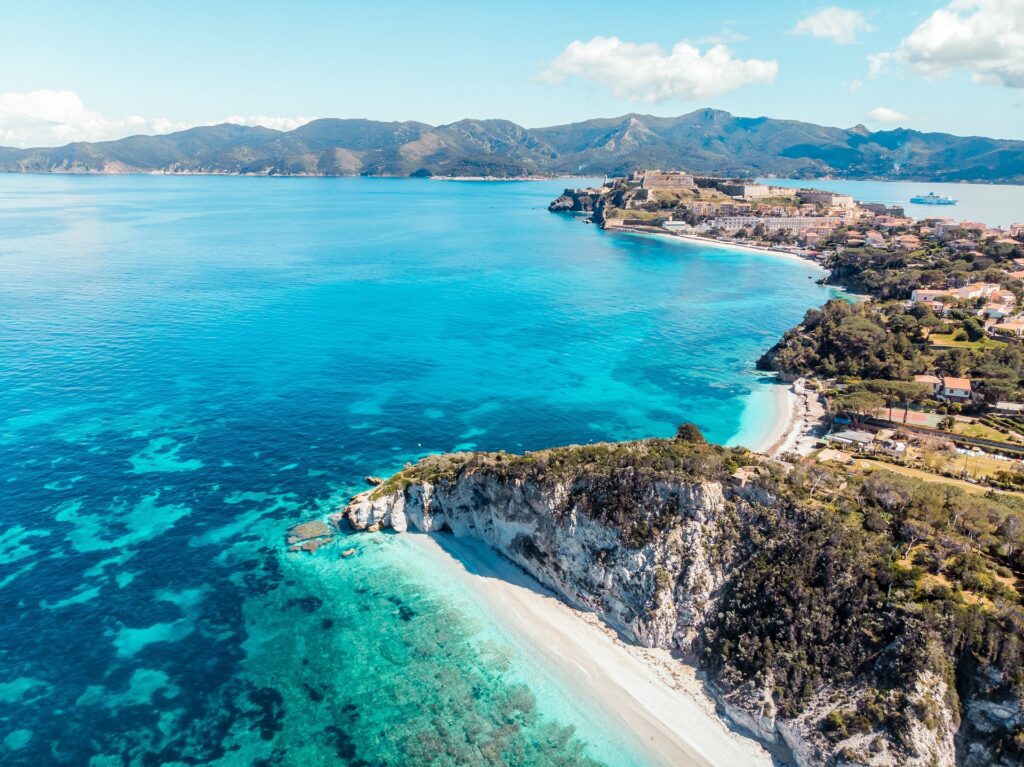 – There is an interesting little island in the Tyrrhenian Sea (Long. 42° 45′ 46″ Nord – Lat. 10° 14′ 22″ Est) the Elba Island.
– Each island has its own legends, and so the Elba.
– Many legends surround the island, the Argonauts, the Princess Alba and the knight Sabinus, the Lady of Grassera, the Damsels of Luceri.
– This last legend concerns a raid of the terrible Corsair Redbeard.
Opposite Portoferraio, there was a castle called Luceri, which the corsair Redbeard destroyed during one of his raids, killing its master, a noble knight and father of five daughters.
It is said that the Damsels searched long and in vain for salvation; then, overcome with tiredness, they retraced their steps towards the place where the castle was, holding each other's hands. Suddenly, a scream rang through the night: a corsair vessel was in sight once again. Terrified, the girls decided to run away, but the oldest one slipped on a high rock face, dragging her sisters with her into the sea. Today, when there is a full moon and the gulf is illuminated, the garland of the virgins can still be seen on the seabed.
– Not legendary but curious the history of the flag of Elba, white whit a red diagonal stripe from the top left to the bottom right with three golden bees on it.
– The flag, that Napoleon had made when he arrived on the island while still aboard the English frigate called Undaunted was hoisted in Portoferraio in Forte Stella on May 4th, 1814, the day that Napoleon arrived on the Elba.
– Over the years more than one explanation has been given as to the significance of the bees, from the hard work of bees to a royal symbol.
– Anyway, Napoleon flag of Elba was immediately a great success.
– According to Pons de l'Herault (a writer of the history of Elba) in his "Souvenirs et Anecdotes de l'Ile d'Elbe", even the Barbaresque pirates greeted it, because they saw in it the symbol of their war hero, Napoleon, in person, as they sailed the Tyrrhenian Sea.
– Legend and history are intertwined on the Elba.
– If you decide to take a night walk on the rocks, be careful where you step.
Elba doesn't need more heroes fallen into the sea…

GIOVANNI BABINO
Adresse :
Piazza Duca d'Aosta 10
20124 Milan
Italy
Telephone : +39 02 66 98 14 38
Fax :+39 02 67 48 19 15
Email : foreignclients@bf-lawyers.com; milano@bf-lawyers.com
Website : http://www.bf-lawyers.com/index.php/en/