The Netherlands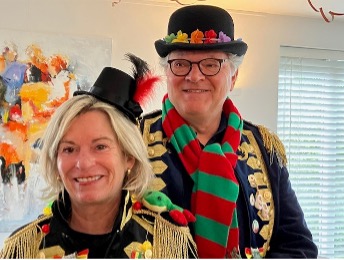 What is your favourite movie ? The Godfather (Trilogy), closely followed by Forrest Gump.
What is your favourite thing to do on a day off ?Trying to play 'serious' golf.
What is your favourite book/author ?'De Eeuw van mijn Vader'( The Century of my Father) by Geert Mak, Dutch writer. The emphasis in the book is on the Netherlands of the twentieth century. Furthermore, much is told about the history of the Dutch East Indies as well as that of other countries in mainland Europe. A lot of information is also provided about the First and Second World Wars as well as the role that the Netherlands and the Dutch played in it.
What is your favourite place travelled ?Rome (being a former altar boy).
Do you collect anything ?Cigar bands until my 9th year. After that, my grandfather quit smoking. Since then, I have developed an interest in old clocks.
What is your favourite holiday ?Winter sports holiday followed by the Carnival in the southern part of The Netherlands (picture).
What is your favourite sport ?It was field hockey but now golf.
What is your favourite music genre/musician ?Jazz/  Easy listening/ The Voice also known as 'Ol' Blue Eyes'.
What are you passionate about ?my first reaction was: 'Work' but that is so boring so a beautiful evening in a restaurant with friends, girlfriends and certainly family, in a good ambiance can certainly charm me.
If you could do anything else professionally, what would it be ?Owner of either the bar: Çafé 't Doktertje' in Amsterdam or, as a good alternative, owner of the restaurant 'Bassgeiger Alm' at the Kitzbüheler Horn in Austria.
What skill would you most like to learn ? Play accordion (like my Father as it is a tradition in the family).
What is one thing that instantly makes your day better ? A kiss of Julia! What else?
PIM NUITEN
Adresse :
Burg. De Raadtsingel 99C (3311 JG)
Dordrecht
Netherlands
PO Box 1080 (3300 BB) Dordrecht
Netherlands
Telephone : +31 786 133 966
Fax :+31 786 310 938
Email : Nuiten@bnlegal.nl
Website : http://www.veldlaw.nl/